The Oakes Hotel Overlooking the Falls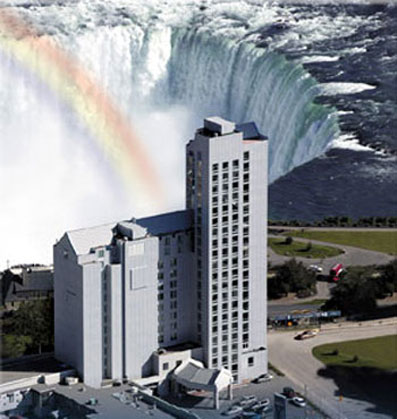 Taking advantage of the most impressive location in Niagara Falls Canada, the Oakes Hotel Overlooking the Falls has undergone a remarkable renewal combining the finest comforts and traditions of the Grand Hotels, with the most modern, sought-after amenities, featuring spectacular new Premier Fallsview Rooms & Suites.
The closest hotel to the Horseshoe Falls, The Oakes Hotel has been transformed into a sleek, modern glass-and-steel structure featuring a new 21-floor tower with 3 high speed glass enclosed elevators. The many alluring amenities include a heated indoor pool, whirlpool, sauna, exercise facilities and fallsview observation lounge.
Guest comfort enhancements such as bell service, room service, gift shop and shuttle service to the Falls and Casino Niagara are available. Enjoy superb dining in our award winning restaurants.
For unparalleled value, join us at the Oakes Inn, our economy motel that is connected to the spectacular Oakes Hotel Overlooking the Falls. Here, guests can enjoy all of our first class amenities while taking advantage of the tremendous value the Oakes Inn has.