The Legends Usshers Creek
Written By: Scott Bowles on Jul 02, 2008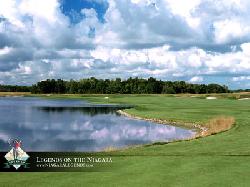 Making your way to Niagara any time soon? If so, let me introduce one of the must-plays to you: Ussher's Creek Golf Club at Legends on the Niagara. This Thomas McBroom design meanders through a mature Carolinian forest that makes you feel like you are the only foursome on the course.

Ussher's Creek Golf Course is one of two championship golf courses at Legends on the Niagara (the other is The Battlefield course). What makes Ussher's Creek a must play is that "you are likely to use every club in the bag" according to Brad Maloff, who played there in June. "The creek that comes into play on nine of the holes was used to arrange the course just perfectly", says Brad. He adds "that creek is hard to play from." Sounds as if he attempted it more than once.

The creek that is the name sake of the course is nicely woven throughout the course. McBroom has strategically bunkered the course as to clearly define where your aiming points should be. A few of the holes that meander through the more dense forest are tight and require pure shot placement. The greens are receptive and reasonably fast - a true test of golf! (Isn't that what it's supposed to be?)

The Battlefield course has its own flavor and is just as enjoyable. A nine-hole challenge course, The Chippawa course, is a great addition to this exceptional golf facility.
Come and enjoy Niagara Falls golf when you get a chance!