Prime Location for Thundering Waters
Written By: Scott Bowles on Sep 02, 2008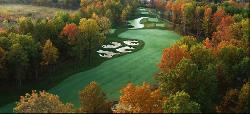 Aptly named for the Niagara River adjacent to the course, Thundering Waters Golf Club, designed by long-hitter John Daly, has made its mark on the golf scene in the Niagara Falls area. Located just 5 minutes from the Falls-side hotels, and 1500 feet from the horseshoe falls known as "Niagara Falls", this course is a challenge you must take soon as it will be too cold come the end of October. This course, as well as other great area golf courses, is best played from May through the end of September.

Thundering Waters Golf Club is one of only five John Daly-designed golf courses you can play. This collaboration with Canadian golf course architect Bo Danoff is not your typical grip-it-and-rip-it-style golf course as over half the course winds through dense forest. This breathtaking, well-conditioned course is a true test of golf. Make Thundering Waters Golf Club and Niagara Falls a target destination for your next golf trip.
And if you're looking to catch up with John check his schedule on the
Website
.

Oh yeah, a message from The Lion:
GRIP IT AND RIP IT!