The Grand Niagara Resort
Written By: Shane Jensen on Feb 03, 2008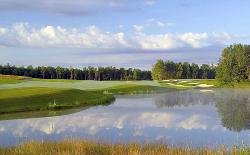 The
Grand Niagara Resort
is home to the Rees Jones Golf Course in Niagara Falls, Canada. Considered by many to be the best golf course in the area, this Rees Jones masterpiece serves up a few tricks but lots of challenges. This golf course weaves its way through the forests and marsh lands of the Canadian landscape.
From the back tees the Rees Jones Golf Course measures over 7,400 yards and has only one par-4 under 400 yards. If you plan on taking the golf course from all the way back you had better bring your "A" game. Not only are many of the fairways tree-lined, but they are also guarded by large bunkers that resemble hands in shape and function. The fingers of these bunkers can force a player to lay up rather than go for the green in regulation.
Water plays an important factor on this golf course and comes into play on 12 of the 18 holes. Starting right from the second hole, players will face water and an elevated green that punishes the player if missed. There is a large slope to the left of the green which makes chipping very difficult on this short hole.
On any Rees Jones golf course, the short game plays an important factor. The greens here are large and undulating. Many of the greens have different tiers and knowing the pin position will almost certainly save you strokes.
The golf course uses Bent grass on all areas of the golf course as the cool climate is perfect for this pristine surface. Bent grass is very popular on greens for its speed and consistency and makes for a great playing surface in the fairways as well. This compact surface will allow the ball to roll a tremendous distance on the fairways and will shorten the overall length of the golf course. The cool Canadian climate is perfect for keeping Bent grass in great condition. During the season, this is the best conditioned golf course in the area. It has been said that this golf course could easily hold a Major Championship. The clubhouse at this property was recently finished, which further enhances the atmosphere of this golf course. The interior of the clubhouse is done in earth tones with leather furniture and wood fixtures. The clubhouse features locker rooms, banquet facilities, restaurant and a lounge for after-round drinks.