Great Golf Great Food and Fire in the Sky
Written By: Shane Jensen on Sep 02, 2008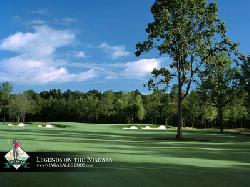 Niagara Falls is one of the most popular destinations in Canada - not only for the beauty of the falls but for the other activities that exist in the area. Late summer and early fall are the perfect time to visit this northern playground. During this time the golf courses are in great shape, the trees are starting to put on their brightly colored leaves and the weather is great. Throughout the entire month of September the average daytime temperature is in the mid-70's. This is the perfect time to enjoy some of the great golf courses that are springing up all over the area. The Legends Course on Niagara Battlefield is one you will need to put on your must play list.

The Legends on Niagara Battlefield was designed by Douglas Carrick and can stretch to well over 7,200 yards from the back tees. The 19-acre man-made lake is the crowning feature of this wonderful golf course. Be sure to bring your "A" game and perhaps a chainsaw for the forests you might find yourself in. Also located on this property is the Ussher's Creek Golf Course, which makes this a great 36-hole facility. Other great golf courses in the area include Grand Niagara and Thundering Waters.

While you are in the area there are numerous cultural activities to satisfy any pallet. One of the most popular is the Niagara Wine Festival. This year, the final festival of the year will take place from September 19-28, 2008. This festival is located at St. Catharines Montebello Park. Typically, guests will be able to enjoy a variety of traditional Niagara food and drinks, wine tours, and concerts. It is also during this festival that one of Canada's largest street parades takes place. Be sure to put this event on your calendar.
If the beauty of the falls wasn't enough to draw your attention, every Friday and Saturday night until September 2nd fireworks can be seen over the falls along with the free Coca-Cola Concert series. The fireworks are scheduled to start at 10pm so don't plan an early tee time for the next morning. This is an awesome opportunity to listen to great music and experience the light show in the sky.

If you haven't thought about Niagara Falls as an Autumn golf destination, you are definitely missing out on some of the finest things in life. Check out this diverse area and have a great time.