The Grand Niagara
Written By: Shane Jensen on Apr 30, 2008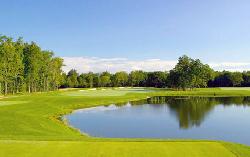 Rees Jones has long been considered one of the foremost golf course architects of our time. His golf course at the
Grand Niagara Resort
ranks as one of the top golf courses in all of Canada. Rees Jones has a very distinctive style that allows all levels of golfers to enjoy the golf course while still being challenging enough for top touring professionals.
The Rees Jones golf course at Grand Niagara features
numerous doglegs and large greens. Water comes into play on many of the holes which further adds to the difficulty of the golf course. Certainly there is an abundance of this natural resource in the area and it makes perfect sense that Rees Jones would use it.

Most players will consider the front nine as a warm up for the back nine. The back nine is really where the golf course bears its full teeth. From the back tees there are no par-4's under 400 yards and both of the par-3's are very close to 200 yards. The ability to work the ball around trees and bunkers will be the most important skill on this golf course.
Much of the golf course has large leafy trees surrounding the fairways and these can give the player lots of problems. If you stray too far from the fairway you will also find yourself in grass that can grow as "high as an elephant's eye," and have almost no chance of getting the ball back to the short grass.
The
Ree Jones Course at Grand Niagara
is always in top condition. This golf course was designed to host professional tournaments, so you can bet they take pride on the conditions of the golf course. There is a great definition between the fairways, roughs and greens. These greens will be very fast, ranging from 9-10 on the stempmeter.
The Grand Niagara Resort currently has just the one golf course but plans are in the making for a second golf course, designed by Greg Norman, and a hotel with other amenities on property. The Niagara Falls area is quickly becoming a popular tourist destination in large part due to the wonderful golf courses that are popping up very fast. Once the rest of the resort is complete, scheduled for 2010, there will be no resort in Niagara Falls that will be able to compare with the quality and service of the
Grand Niagara Resort
.